BACKWATERS AND HOUSE BOATS
The Backwaters in Kerala are the devices more the enchanters of Kerala. Backwaters are ahead and behind made up by the ponding of sea to the beach by the movement of the waves. They are usually formed in the form of lagoons, of lakes and estuaries. The Backwaters in Kerala is a network of esquisite channels, lakes, lagoons and deltas of approximately 44 rivers emptying in the Arab sea. The principal mode of transport on these backwaters is by houseboats bus more 900km of this world of water is navigable.

The lake Vembanad is largest strech of Backwaters in Kerala measuring 83 kilometers length, and crosses three zones before reaching the sea with the port of Kochi. The lake Ashtamudi, significance, having eight arm, are the larger second strech and are the passage to the backwaters. These lagoons and the lake Kayamkulam were formed in 1866 A.D, when the large flood envase to the top of the old ports. These backwaters in the keralahave become roads between the interior ground and the sea.
The Backwaters in Kerala plays an important part in the industry of tourism of Kerala. It became of the 50 must see places in the world. To appreciate a cruising in these backwaters should not be missed, because it leaves you that the feeling rejenuvated entirely. The banks of these backwaters in Kerala are the spots of picnic more the enchanters. You obtain to test the indigenous manner of the life. The women, neck deeply in water with their long hair piled up upwards on their head like a crown with pots of terracotta floating close to them. They seek fish with their toes and when they locate them, one or the other a line of the fishermen will swim coast at coast, stretching a net. The fish trying to avoid the slings swim effortlessly in the net. Or the women submerge to seize them by their tails and to upwards pile up them in their pots. Introduced men the night with a lamp and a net of butterfly, and the fish attracted by the light are bailed out outside.
The best way of testing the beauty of the backwaters in Kerala is to lead to normal speed along in a rented boat, a canoe or in Houseboats which are specifically for the additional ordinary houseboats of tourists.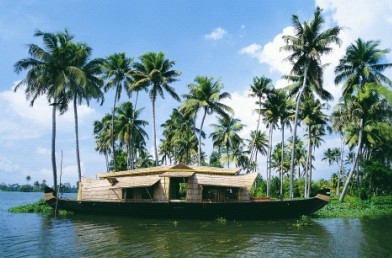 The houseboats, or "Kettuvalloms" while they are called the made-to-order of the natives, are the giant boats measuring 80 feet length around. They are built by attaching the boards out of wooden as well as cords made in thimble coir (coconut) without employing a simple nail. To supply with the industry of tourism, these Kettuvallams were made more luxurious with one or two rooms to be slept with the bath joint, an opened living room, a platform and a crew of three being composed of a cook, a oarsman and a guide. The services of Dormitary are also available for tourists.