KOVALAM
Kovalam is a quiet little town with greenery all around. Coconut, bananas, pineapples, papayas, ginger, mangoes etc are its wealth. Two beautiful adjacent bays bestow glamour to Kovalam.

See and admire the three crescents beaches : Lighthouse Beach, Hawa Beach and Ashoka Beach that Kovalam is famous for.
The southernmost Lighthouse Beach commands highest degree of popularity. Eve's Beach, more commonly known as Hawa Beach, ranks second. All the three are very popular, the difference being narrow.
The name Lighthouse is voluntarily awarded by the pet old Vizhinjam Lighthouse anchored on a rocky promontory. Its intermittent glittering beams at night bestow cost-free charm of romantic hours at Kovalam.
An Edakallu (a stone in between) separates Hawa Beach from Lighthouse Beach. Hawa Beach is fairly clean. A rocky hill separates Ashoka Beach from Hawa Beach. Halcyon Castle, one of Kovalam's landmarks, is located at Ashoka Beach.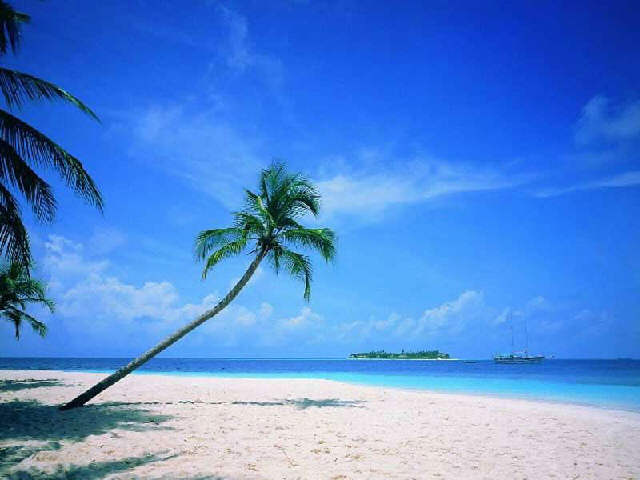 Take a detour past Kovalam junction to land in Samundra Beach which is at north of Ashoka Beach. A long sea-wall gives the option of walk on. The waves lashing on rocks below are a pretty sight.


Cherished monsoon at Kovalam : India's south-west monsoon kick-starts from Kovalam. The sky drops its milk first to the sea waters in Kovalam with thunder and lightning (very often) as a proclamation of its arrival and moves to the land. Prelude to the monsoon mild to harsh wind emanates from south-west direction in the sea and moves on to the land. This happens 7-8 hours in advance of the arrival of monsoon. The cloud-drops nose-dive to the sea artistically to punch the sea-water which is a heart-warming sight. The people enjoy drenching in the first rain. The rain comes and the people get a sigh of relief from scorching heat, often around 42 degree Celsius.
The people world over confirm Kovalam is the best place to imbibe the charm and beauty of the arrival of monsoon. Many litterateurs, documentary writers, channels and televisions including BBC television prefer Kovalam to document the monsoon arrival.

Ayurveda Kovalam : Kovalam has become a fertile land for Ayurvedic outlets in various hues such as ashrams, spas, clinics, centres and resorts consequent upon the 3000-year old science of Ayurveda becoming Kerala's big tourist attraction.
Vizhinjam is known as fishing village. It is just 2-km south of Kovalam.
Vizhinjam Fishing Harbour is a natural port which is about to be developed as a major port for which spade work is already in progress. It is the busiest fishing harbour in Thiruvananthapuram district humming with activities all the days. The sight of hundreds of fishing boats crowding on the harbour is delighting. See them from distance as the fish-foul smell is nauseating.
There is a Marine Aquarium near Theatre junction. Though housed in a shabby building, it is a treasure of marine products. Clownfish of Finding Nemo fame, moon wrasse, squirrelfish, lionfish, butterflyfish, giant turtles, triggerfish, aggressive surgeonfish, deadly piranhas, sharks etc are few among the many nursed here.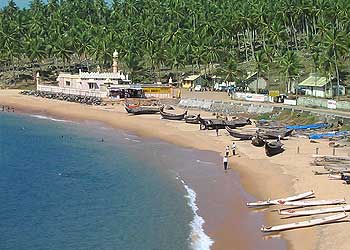 The Aquarium has mastered in the image-pearl production technique. The technic seems simple but needs perfection. A mould made of lime is implanted into the pearl oyster. After two to three months a moulded pearl is ready. The images of Christ, Virgin Mary, idols of Hindu gods and goddesses are displayed in the Aquarium.
There is an 18th century old Cave Temple near Vizhinjam junction. It has semi-carved idol of Shiva and goddess Parvathi on the outside. Inside there is a single-celled shrine. Being a Cave Temple (very few in Kerala) many devotees and others visit here. As against other temples, one day, that is Monday, is closed here.

Chowara, just 6-km south of Vizhinjam, is a fishing village. It has a long stretch of white sanded quiet beach. Being a fishing village, it is a common delightful sight that eagles and kites circle above the sea near the beach.
There is a hill-top Ayyappa temple which overlooks the beach. Here there is a 56-day long festival beginning from November 15 and ending on January 15 which is attended by many.
Nearby Chowara there is Azhimalathura beach which stretches long. This is the only beach in Kerala not eroded by sea. In contrast, the sea is receding here.

The hill-top Pulikudi-Azhimala Shiva temple is near here. The surroundings of the temple are lovely and enchanting.
Analothbhava Matha church is also located here on the beach side. This is a very ancient church. Sunday, Monday and Friday are the Mass days.

Thiruvallam, 8-km north of Kovalam, is the place where Killi and Karamana rivers embrace each other. Thiruvallam Boat Club arranges boat ride to Karamana and back.
Nearby, there is a quiet beach called Pozhikkara beach where Parvathy Puthanaar river and Karamana river succumb to the sea.
Kerala has only one temple dedicated to the legendary creator of Kerala, Parasurama, which is located near here. The devotees and others throng to this shrine. Here the main festival is Arattu in the month of Thulam (Oactober-November). Vavu Bali is also conducted in Karkidakam (July-August) when large number of Hindus gathers to perform rites for the departed souls of dear and near ones.
Located 7-km from Kovalam via Poonkulam junction. The 750-hectre giant lake is a freshwater lake, one of the two in Kerala. The other one is in Sasthamkotta in Kollam district. A road passes through this lake, a rare sight. This lake attracts many people. Once in Kovalam, a visitor should not allow to miss the opportunity of seeing this wonder lake of freshwater. Its crystal-clear calm water, especially during moonlit nights, is a craze for the minds. The locals say a side of the lake is Kochu Kovalam, meaning tiny Kovalam.
There is a boat race in the lake during Onam which attracts huge crow. Country boat is available from Kovalam beach to reach the lake.
300-acre campus of Government Agricultural College is nearby. The main building of the College was built by the erstwhile Travancore royal family as their summer palace.
There is a Devi temple 300-m away from the lake. A festival called Vellayani Mahotsav is celebrated in the temple once in every three years. The festival prolongs to 54 days. The next festival is due in 2008